Sophisticated Printing
Printing services with elegant appeal and traditional quality.
Emotive quality. Feel it!
Use all the power that print can deliver with our fabulous use of colour, texture, shape and sheen.
Superior Finish
The best and most original print products require experience and talent to achieve. That is what we offer.
Only the highest quality will do
When there is no room for compromise and only the best will do, we can deliver the goods.
Legal Services
We provide custom services to Law Firms that save time and provide uncompromising quality.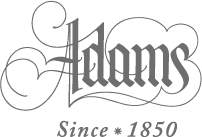 One hundred and sixty years of history. Tradition, quality and expertise in today's print industry.

In 1850 Francis Adams established himself in business, in Montreal, under the name of F. Adams, General Engraver. The work at this time was comprised of the engraving of fine jewelry, silverware, engraved stationery and brass signs. Later on, the popularity of engraved expanded the business.

read about our history.